Meltdown Winter Ice Festival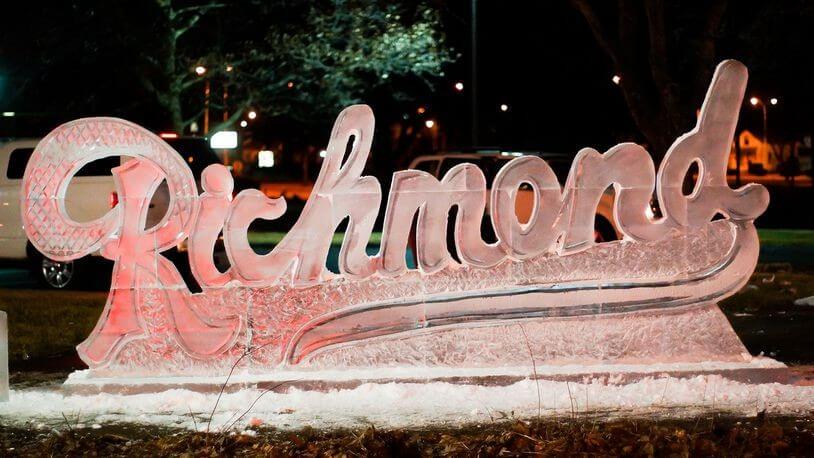 The Meltdown Winter Ice Festival is an exciting weekend event that brings world-class ice carvers to Richmond for a fun-filled weekend featuring music, events, ice fights, and many impressive ice sculptures throughout Downtown and Depot District.
The festival is held during the last weekend in January. In 2022, the Meltdown Winter Ice Festival will be held January 25 through the 29th. Most of the Meltdown events are free and open to the public.
More than 22 tons of ice will be transformed during the Meltdown Winter Ice Festival! View a gallery of past Meltdowns.
The main event is the Meltdown Throwdown sculpting competition. Carvers will go head-to-head to see who can create the best ice sculpture the fastest, with the crowd as the judge.
Other features of past Meltdowns include the Family Fun Zone, an interactive ice park with an array of games created entirely from ice, carriage rides, a frozen fairy trail, a frosty mug pub crawl, music concerts, local food trucks, fireworks and more.
The main event of the weekend is the Meltdown Throwdown, an ice sculpting competition where nationally-renown ice carvers battle head to head to see which team can create the best sculpture as decided by a crowd of hundreds of eager fans.
Origins
The Richmond Meltdown Winter Ice Festival was started in January, 2013 and is currently celebrating its 9th year. It is organized and managed by the Richmond Meltdown Committee, a group of residents who saw the need for a new festival for Richmond. For coverage of past Meltdowns, see our Press Page.
The Meltdown is made possible by the generous support of our local business community and the hardworking volunteers who make it possible. Visit our sponsors page for a complete list of our sponsors. Our 2022 Presenting Sponsor is 3Rivers Federal Credit Union, who deserves special mention.
The Meltdown Winter Ice Festival's website was designed and updated by digital marketing agency Always Relevant Digital.
About Richmond Indiana
Richmond is the county seat and largest city in Wayne County, Indiana and boasts population of approximately 38,000 people.
Its location on the Indiana-Ohio border and its easy access from Interstate-70, makes Richmond a great destination for a one-tank trip. Richmond is approximately 70 miles east of Indianapolis and 40 miles west of Dayton, Ohio.
Lodging and accommodations
Richmond-area restaurants
Things to do in Richmond