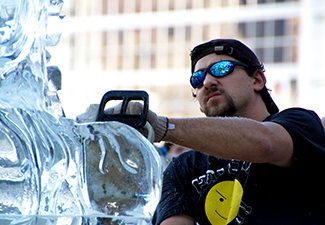 Andrew Thistlethwaite
San Antonio, Texas
Hobby turned into obsession as Chef Andrew discovered the unique art of ice sculpting in 1996 as a culinary apprentice at the University of Notre Dame. Since then he has traveled tirelessly throughout the country honing his skills with a chainsaw creating awe-inspiring crystalline spectacles for winter festivals, parties, and demonstrations. Andrew is a Certified Ice Carver by the National Ice Carving Association, and is the Owner of Signature Ice Sculptures, LLC in San Antonio, Texas.
Distinctions and Awards
NICA Professional Division National Champion 2007, 2008
3rd Place 2016 World Ice Art Championships, Fairbanks, Alaska
Awarded numerous Bronze, silver, and Gold Medals in NICA Competitions
Certified Ice Carver
Ivy Tech Instructor in Ice Carving
Founded Hunter Ice Festival, Niles, Michigan
Aaric Kendall
Argenta, Illinois
When Aaric Kendall was in high school, working part time in the kitchen of a private dining club, he got the chance to carve a swan out of ice at a Springfield, IL charity event. Kendall was able to hone his skills when he later attended the Culinary Institute of America in Hyde Park, N.Y. There, he was president of the school's ice carving club, which set up competitions so chefs-in-training could practice. Argenta, Illinois resident Kendall has since gone on to win the U.S. Ice Carving Nationals and earned the right to compete in ice carving events held in conjunction with two winter Olympics — Turin, Italy, in 2006 and Vancouver, British Columbia, in 2010. He was the Bronze Medalist in Turin and won Gold in Vancouver.
He placed 2nd at the World Ice Art Championships in 2015. Kendall worked as a chef at the Ritz-Carlton Hotel in St. Louis, where he did all of the hotel's ice carving. After more than a year, he took a job in the same city with Ice Visions, a full-service ice carving company. There, he sculpted everything from turkeys and cornucopias for Thanksgiving to corporate logos for business functions and monograms for weddings. Kendall also started Double A Carving Company, a full-service ice carving company. His shop, which includes a 13-by-10-foot freezer where he carves, is on the property of his parents' home, where he grew up.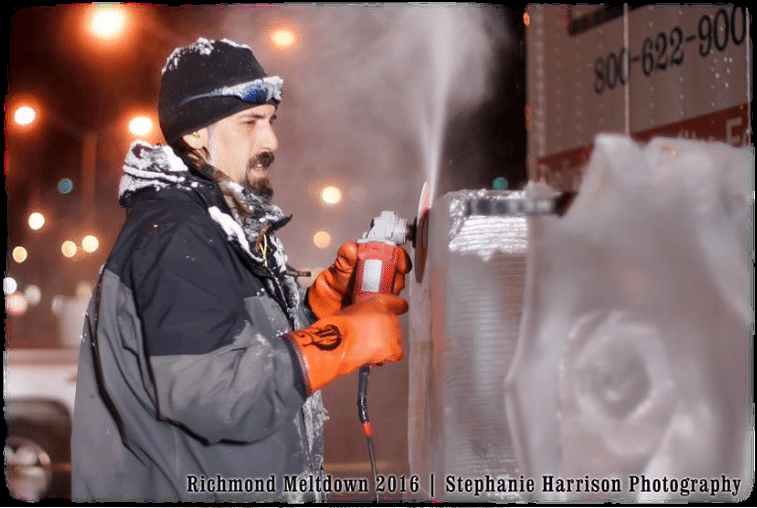 Dean DeMaris
Fate, Texas

It was the summer of 1988, I was in garde manger class at El Centro, a com-munity college in downtown Dallas, when I carved my first block of ice. By October I was full time, at Bifulcos Vanishing Sculptures working for Robert Bifulco, doing a little bit of everything, sales calls, picking up equipment, deliveries, maintaining equipment and even a bit of sculpting.
After going back to school to work on my art degree 1992 i kept my hands on my chainsaw working anything I could find. By 1997 I was running full steam ahead and by February 1998 I officially stated Dallas Ice FX.
I only competed in a few local competitions winning some and DQ'ing in others. I competed nationally for the first time in 2003, again in 04, 07 and 08, finishing in the top 10. 3 silver medals and a bunch of bronze.
My first experience with international competition was in 2007 at the World Ice Art Championship in Fairbanks, AK. with team Fear No Ice.
2007 2nd place abstract multi-block "Sweet Motion of the Northern Lights"
2013 10th place realistic single block "Fallen"
2013 DQ multi-block Team Texas "STRIKE"
2015 2nd place realistic Team Texas "Octopussy" peoples choice, governor's award,
2016 7th place abstract, single block Team Texas "H2" peoples choice.
2016 3rd place realistic, multi-block Team Texas "How to Train Your Dragons"

Jeff Kaiser
Youngstown, Ohio
Jeff started carving ice at the age of 19 at Mastro Ice in Pittsburgh, Pennsylvania. He worked as a contract sculptor for over 20 years with Mastro. Jeff and his wife then started Sub Zero hand crafted ice sculptures in Youngstown, Ohio where the both sculpt. Jeff served on the board of the National Ice Carving Association while competing on the national circuit winning several medals and awards.
He first competed in the World Ice Art Championships in 2011 with Team California, taking fifth place. In subsequent world competitions Jeff has won 2 peoples choice awards, 2 third place awards and recently has won 1st place in the multi block competition and 2 block competitions. He says he will continue to carve ice as long as his body will hold up, but will always be part of the Ice World!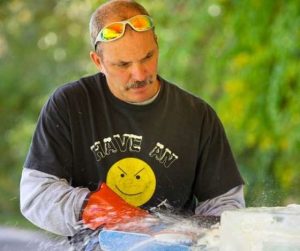 Danny Bloss II
Niles, Michigan
Danny Bloss II started carving ice at the first Hunter Ice Festival in Niles after taking an ice carving class with the Executive Chef at the University of Notre Dame's Morris Inn. As he works as a chef at the University of Notre Dame in the Food Services Department, he continues to further his passion for ice carving.
He is a frequent participant at almost all Northern Indiana and Southern Michigan winter festivals, having won numerous Silver and Bronze medals in National Ice Carving Association sanctioned competitions. He reached the pinnacle of his ice carving career in 2017 when he won the Professional Division National Championship. Danny works with ice carvers from every corner of the country to hone his skills but always works with his wife Becky at the St. Joseph, Michigan Magical Ice Festival every year.
He also does all the ice sculptures for the University of Notre Dame events as well as other events in the South Bend, Indiana area. Danny's ambition is to someday own his own ice shop. When the weather is warm Danny also is a wood carver and does chalk art at several festivals throughout the country. Danny lives in Niles, Michigan.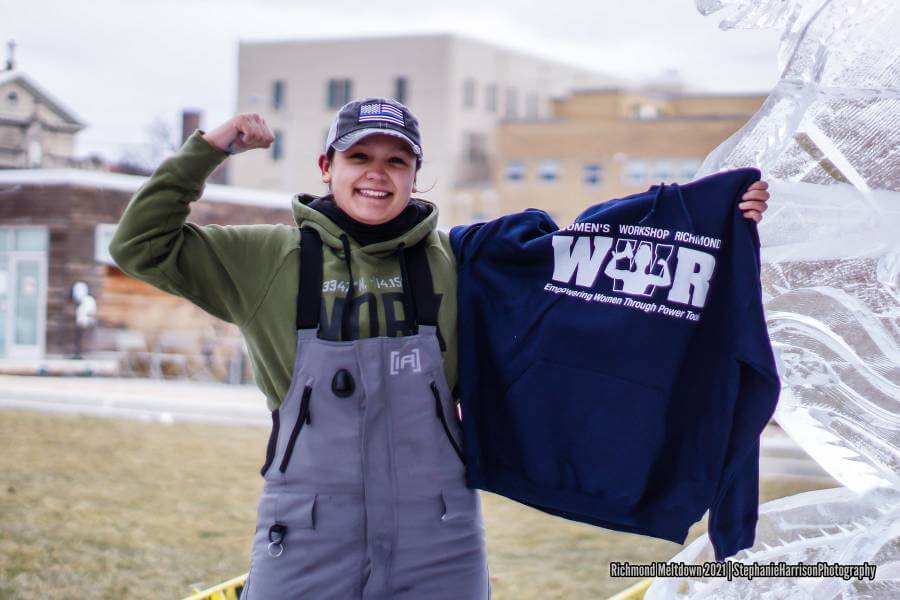 Samantha (Sammy) Moore
Elkhart, Indiana
Samantha Moore (Sammy) is from Elkhart, Indiana. She started carving ice in 2017 with the Michiana Ice Carvers Association. She is the chef for Goshen Health Hospital in Goshen, Indiana. Sammy's hobbies outside of ice carving are training jujitsu, hiking, and camping. Sammy also competed at Ice Alaska in 2020.